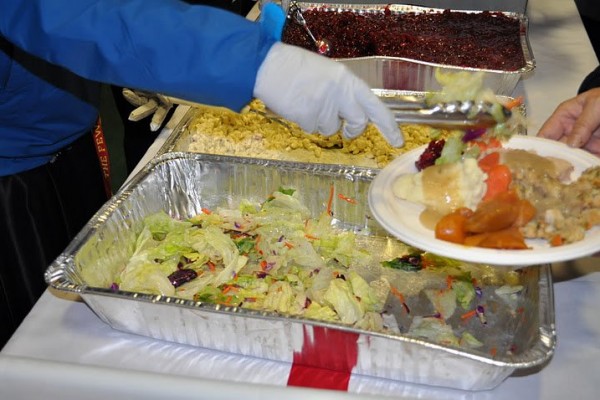 If you have additional questions about what is acceptable, please contact
Multnomah County Environmental Health at (503) 988-3400 or
FoodSafety@co.multnomah.or.us
Except as noted below Home Prepared Foods can

only

be accepted from volunteers who have obtained a Food Handler Card. Click here for more on Preparing Food at Home.
According to Multnomah County Environmental Health the following are approved foods for donating and serving at Potluck without obtaining a Food Handler Card, as dictated by State Health Division Food Sanitation Rules:
Food donated by or purchased from a restaurant, grocery store or other licensed commercial establishment and brought directly to Potluck or another licensed facility.
Home-baked bread, rolls, pies, cakes, doughnuts or pastries not having perishable fillings, icings, toppings or glazes.
Whole, uncut fresh fruits or vegetables from private gardens or commercial growers.
Food that is purchased and then prepared on-site at Potluck.
Food prepared at a licensed facility and brought directly to Potluck.
---
What is a "licensed facility"?
A "licensed facility" is a facility that is licensed and inspected by your county Health Department or the Oregon Department of Agriculture. Restaurants, groceries and catering establishments will all be licensed facilities. Most importantly, for your purposes, many churches have licensed kitchens. You will need to ask if yours is.
What is considered to be a "perishable filling, etc."?
Anything that requires refrigeration is perishable. Examples that will be important to Christmas dinner: fruit pies are acceptable; pumpkin or custard filled pies are not.
Can store-bought food that is already prepared be stored and/or heated at home?
Only pre-packaged non-perishable food items. Refrigerated products should go directly from one licensed facility to Potluck or another licensed facility.
What can be prepared on-site at Potluck?
Salads and sandwiches or other cold items are the examples that come to mind. Potluck will have adequate cold storage and a handwash station. At this time we do not anticipate doing any cooking on-site.