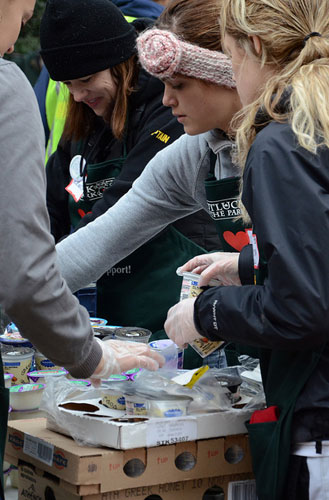 Potluck in the Park is an all volunteer organization that has served a free hot meal to anyone in need since 1991. Most importantly, each volunteer strives to treat everyone at the meal with dignity, respect, friendliness and kindness.
Volunteers and guests come from all walks of life, diverse groups who normally would not mix share a community project by serving a meal.  Potluck in the Park is an extraordinary example of what caring citizens can do to enrich and revitalize their city.
Volunteer Signup Form
Potluck in the Park relies entirely on volunteers, each week we have 54 available spots –  50 at the park and 4 in the kitchen. It is very important that you sign-up ahead of time so we can make sure that we have jobs for everyone. If you would like to help,  please follow this link and sign up at Hands On Greater Portland.
For more information and to sign up to volunteer for our annual Christmas Dinner, please visit "ANNUAL CHRISTMAS DINNER"  page. (Coming Soon)
Questions?  Contact our Volunteer Coordinator: Bethany Dozier | Dozier-bethany@potluckinthepark.org
Main Meal Service – 2:00-4:30
Desserts – 2:00-4:30
Clean-Up – 3:00-6:30
Wear comfortable, casual clothes in layers—we clean up outside, even in bad weather!
Provide time to park – street parking is available but fills up quickly, so please provide ample time to find a parking spot and walk to the park
You won't need a food handler's card to serve food, but we do follow restaurant rules: Please tie back long hair; If you aren't feeling well, please tell the sign-in person and plan to do a different job.
Please plan to arrive at the Volunteer sign-in table at/by 2pm and stay until 6pm, to help with takedown and cleanup. Thank you!
Signing In
Under the Hawthorne Bridge – When you arrive, please sign in and make a name tag. You will then receive further instructions.
Volunteer Contact:
Bethany Dozier | Email
DRIVING
Carpool if possible:  We are located under the Hawthorne Bridge (Winter Location)