Potluck In The Park – Feeding Portland Homeless since 1991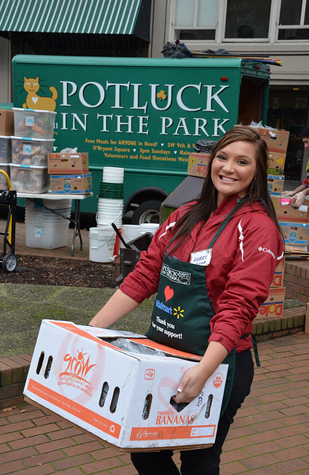 Potluck has been serving a free hot meal to anyone in need since 1991. Rain or shine, 52 weeks a year, we are feeding Portland homeless, every Sunday, in our temporary Winter Location under the Hawthorne Bridge. Four hundred to six hundred Portlanders do not go hungry on Sunday because of Potluck in the Park. The generosity of volunteers and donations from people like you that our Potluck community continues to provide for those in need.
Since 1991 Potluck in the Park has been a volunteer driven, grass roots, tax exempt 501(c)(3) nonprofit organization. We operate with no paid staff or office location. Our entire budget has gone directly to the people who need it. People who otherwise might not receive a meal. We have accomplished our mission of providing nutritious food and an atmosphere of community to anyone in need because of you and others like you.
Each of the servers for Potluck in the Park is a volunteer. Many represent area schools, service organizations, or churches dedicated to feeding portland homeless. Food is donated by individuals, businesses, organizations and religious institutions of all faiths. These gifts are supplemented by donations gathered on a weekly basis.  A special thanks to many area grocers, wholesalers, hotels, restaurant owners and caterers. Some of our community partners include the YWCA, Loaves and Fishes Centers, The Meals on Wheels People, Volunteers of America, and the
Association of Catering and Event Professionals
(A.C.E.P.)
Holidays are a special time for families. Each Christmas Day, our Potluck in the Park family serves a full dinner with turkey and all the trimmings to 1000+. Local musicians, including Tom Grant, play for our guests. Cell phones are provided so contact can be made with family and friends. Stockings with goodies are handed out. Santa is there for pictures to help create that feeling of holiday and family for all of our guests.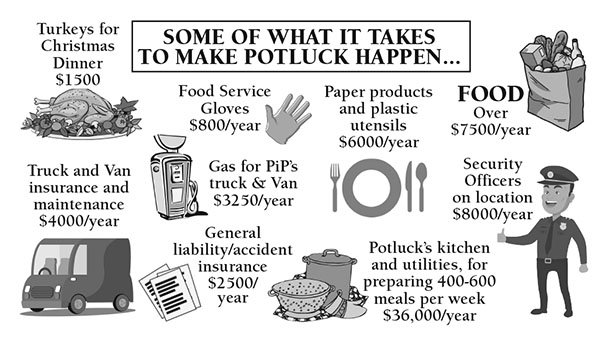 PiP Serving HOT Meals every Sunday
Laura
2019-10-09T20:25:51+00:00
Potluck in the Park has served a meal every Sunday for 1262 consecutive weeks (as of 10/6/2019)
Next year (2020) will be Potluck's 29th Anniversary.
We serve a

free HOT Meal to anyone in need every

Sunday when many agencies are closed
Potluck not only serves humans but pets too. We hand out dog and cat food every Sunday as well. Food donated by Pongo
Potluck has a special Christmas dinner that started at the YWCA and is now served at the Portland Art Museum. We also have a strawberry shortcake Sunday in the summertime.
We are an all volunteer organization. Without our volunteers in the kitchen, we wouldn't be about to prepare the meals to serve each week. And, without our volunteers at the park, we would not be able to serve all of the people that come to the park every Sunday.
Potluck serves anywhere from 350 to over 800 people every Sunday
Potluck in the Park needs dollars to carry out our mission of feeding Portland homeless. While much of our food is donated, additional items must be purchased. Other operating expenses include funds for dishes and utensils, serving equipment, maintenance, gas and insurance for the Potluck truck, cleaning supplies, printing and postage.