Fighting Hunger in Portland.
Rain or shine, 52 weeks a year, hundreds of needy people have a hot meal and a community gathering place because generous supporters like you. Understanding food is a human right and hunger is a human wrong. Every Sunday for twenty-five years Potluck in the Park volunteers have prepared and served healthy wholesome meals with dignity and kindness. The secret to Potluck in the Park's staying power is the story of its people.  Our tenacious teams of career-volunteers have inspired thousands of other volunteers to donate their time, talent and money to fight hunger in Portland.  Their dedication and passion has made Potluck in the Park a touchstone for a community in crisis. 
2019 Food For The Soul
Benefit Concert
Saturday, October 19th, 2019
at the historic Tiffany Center (1410 SW Morrison St, Portland, OR 97205).
We will be upstairs in the Emerald Ballroom located on the 4th floor.
---
6:00 Doors open – Cocktail mixer and appetizers
6:45 Event Begins with Margie Boule' (Emcee)
---
This year's program features new and returning talent including Tom Grant, our musical director, with nearly 50 years in the music business as a pianist, songwriter, singer (and lately) record label owner.  Check out information on the amazing performers who are showing up to support Potluck in the Park.  LEARN MORE
WE'VE MOVED!
Potluck has Relocated to the North Park Blocks
We will be in the next block north of the Park Blocks adjacent to the sculpture in front of the Pacific Northwest College of Art (PNCA). This is between 8th Ave and Park Ave on NW Glisan, one block west of Broadway and one block south of the Main Post Office. This will be our new home until further notice.
Sunday Volunteer Sign-up Now Open
Our Smiling Cat : 1930's Hobo Signs
During the Great Depression of the 1930's "hobo signs" were scratched on pavement or fence posts in front of houses across the country. The symbol of the smiling cat meant, "Kindhearted Woman" – someone who could be counted upon for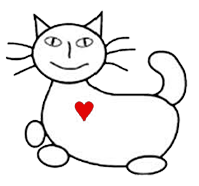 a friendly word and perhaps a warm meal. In hobo language it was a high complement; today it still is. Potluck in the Park has adopted the smiling cat to symbolize what we stand for: A safe haven, rain or shine. We have been serving warm meals to those in need since 1991.
Our VOLUNTEERS
speak out.
Please take a few moments to watch this short video and learn more about Potluck in the Park.
In Memory
of our friend Karl