POTLUCK IN THE PARK
ANNUAL CHRISTMAS DINNER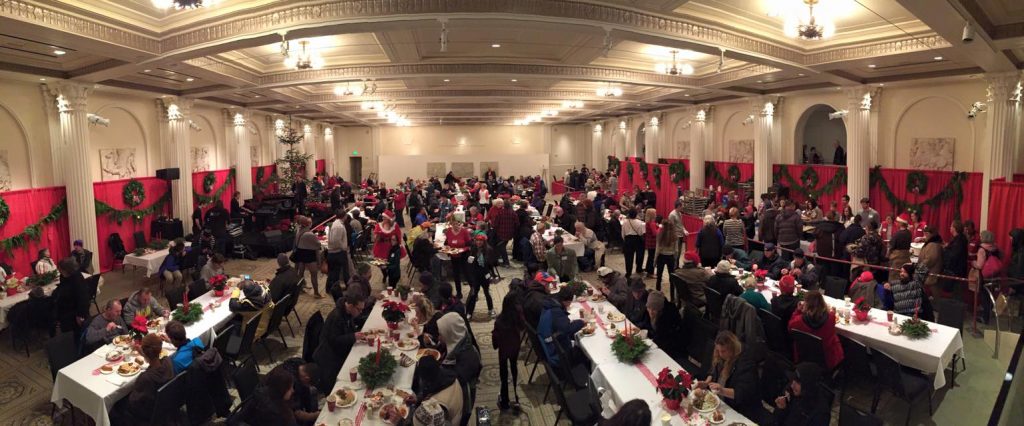 Each year Potluck in the Park hosts an annual
free Christmas Dinner.
Location is the Portland Art Museum.
Our meal is served Christmas Day, December 25th.
"We are honored to partner with Potluck in the Park to host a Free Christmas Dinner again this year.  When Potluck in the Park leadership approached the Museum three years ago to host the annual event, due to the closing of the YWCA, we knew it was something we wanted to do.  The Portland Art Museum aspires to be a resource for all and we are honored that our celebrated facilities and collections can be used to serve those most in need.   It is truly a unique opportunity for the Museum and Potluck in the Park to not only nourish bodies, but also souls."  — Brian Ferriso
---
VOLUNTEER OPPORTUNITY
We're pleased to say that volunteer opportunities for our annual free Christmas Dinner fill up fast.  Be watching for the opening of registration, if you are not signed up to receive our newsletter – click here to sign up and you will be notified when registration for volunteering is open. There will also be a need for pies and cakes for desserts. CLICK HERE for baked goods details.
HOLIDAY GOODIES NEEDED
Potluck in the Park welcomes donations of homemade or commercial non-perishable pies, cakes, cookies and pastries for our Christmas Day Dinner and Sidewalk Coffee Pastry Cart. You can bake yourself, purchase, or even ask your local coffee shop or bakery for a donation of their Christmas Eve pastry leftovers.
We also need No-Sugar, Low Sugar and Gluten Free desserts and fresh bananas for our diabetic and "dentally challenged" guests.
How you can contribute:
For baked goods, please use our contact form to let us know how you wish to contribute. Or you can donate directly to Potluck in the Park through our secure PayPal link, just click on the red DONATE NOW button at the top of the page.