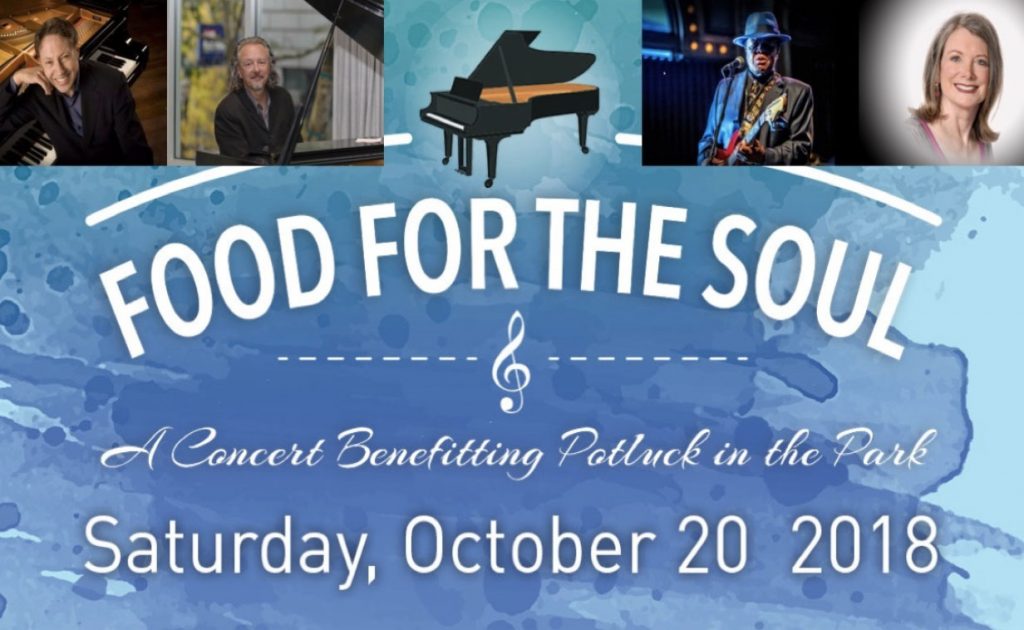 2018 Food For The Soul
Saturday, October 20th, 2018
Doors open: 6:00pm
Event begins: 6:30pm
Tom Grant, Michael Allen Harrison, Norman Sylvester, Shelly Rudolph and Julia McKay headline Food for the Soul, an all-star evening of food and entertainment. This concert is Potluck in the Park's biggest fundraiser. The evening is hosted by Portland's own Margie Boule.
Concert and Fundraiser benefiting Potluck in the Park. Potluck has been serving a free hot meal to anyone in need since 1991. Rain or shine, 52 weeks a year, we are feeding Portland homeless, every Sunday,  in downtown Portland. Four to Six hundred Portlanders do not go hungry on Sunday because of Potluck in the Park. The generosity of volunteers and donations from people like you that our Potluck community continues to provide for those in need.
Sponsorship Table Includes: 10 seats, dinner, show, wine and sponsor recognition.
Tickets Non Refundable
WHERE:
TIFFANY CENTER
1410 SW Morrison
Portland, Oregon 97205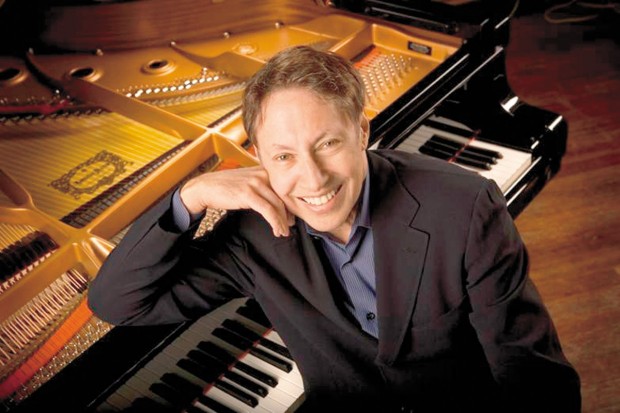 TOM GRANT, master instrumentalist, talented singer and natural entertainer nimbly walks the line between jazz tradition and modern pop. This soft-spoken Oregon native's inspired songwriting produces propulsive R&B grooves, infectious melodic hooks, and stylish ballads with equal ease. He plays jazz piano with the harmonic sophistication and deep sense of swing that only comes from more than four decades on the bandstand. At the same time, his recordings have consistently landed at the top of the New Adult Contemporary (NAC)/Smooth Jazz charts, a genre of music Tom helped pioneer in the mid-80s. As the Pacific Northwest's most renowned musical artist, Tom Grant's career achievements reflect his unique ability to embrace the full spectrum of contemporary music. Born to show business parents, Tom was at home with many musical instruments, but always returned to the piano. At a tender age, he was taught to play piano and drums by his tap dancer father. Later, he learned about music styles listening to music at his father's record store in Portland, Oregon. His brother, an avant-garde jazz pianist, introduced him to the many different facets of jazz music.
After graduating from the University of Oregon and a short stint as a high school teacher, Tom answered his musical calling. Native American saxophonist Jim Pepper took Tom to New York in 1970 to record the chant classic Witchi-tai-to. After that, he toured and recorded with such jazz greats as Woody Shaw, Joe Henderson, Charles Lloyd and Tony Williams. Since 1983, Tom's records have repeatedly topped the Smooth Jazz charts. Several, including the popular Mango Tango, Night Charade, In My Wildest Dreams, and The View from Here, enjoyed lengthy stays at Number One. Tom's music has been a staple of terrestrial and internet radio both in the U.S. and around the world. His compositions are also used in TV and Films worldwide. He has been featured on CNN and the Tonight Show with Jay Leno. Tom is also a tireless worker for humanitarian and charitable causes. He has a scholarship established in his name by the United Negro College Fund. In 1999 Tom was also given the Humanitarian Award for Dedication to Music, Health and Children by the New York Presbyterian Hospital/Cornell Medical Center.
More recently he has dedicated himself to numerous charity projects for the under-funded public schools in the Northwest, Potluck in the Park*, a charity that feeds hungry people in the Portland area, and the Edwards Center for handicapped adults. In 2001, Tom started recording on his own record label, Nu-Wrinkle Records. After nearly 35 years of recording on various labels (Windham Hill, Verve, Shanachie, PAUSA, Gaia, WMOT, Timeless International, Chase Music) he felt it was time to explore the world of self-produced music. In 2013, he has undertaken new projects by other artists.
*Tom has been a Potluck supporter for over 20 years, bringing food to the park even before being asked to play for our first Christmas Dinner. He has performed for our Christmas Dinner guests very nearly all of the 21 years we have served. This fundraising concert was Tom's idea in 2007 as a CD release party. In addition to performing, he is our artistic director and has booked the talent for all of these 9 years.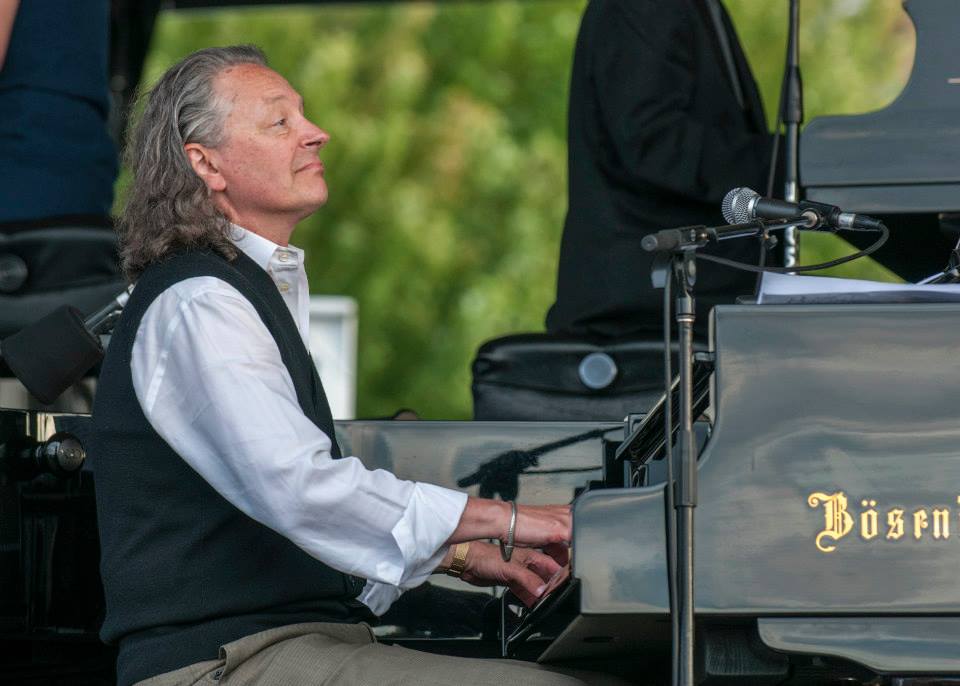 Michael Allen Harrison delivers music to the heart. His classical contemporary style carves a distinct niche of timeless music that has connected with so many during his almost three decade career.
Michael is known for his piano solo performances and recordings, his upbeat sound with his band , his work with inspiring vocalist Julianne Johnson, his skills producing and creating music for ballet, theater and film, his love for teaching and perhaps mostly known for his giving spirit. He was honored with a star on the walk of fame in front of the Portland Performing Arts Center for his artistic and community contributions to his beloved city of Portland Oregon.
Michael is the founder and president of The Snowman Foundation which has raised over 3 million dollars for music education supporting school programs, many community centers and has given hundreds of instruments and scholarships to kids who can't afford it.
He created "Ten Grands" as the main platform and fundraiser where Michael and 9 other pianists perform together on ten pianos to benefit the mission of The Snowman Foundation Ten Grands productions is in it's eleventh season. Michael has expanded his mission to Seattle and plans on taking the entertaining extravaganza of Ten Grands around the world delivering the message of how important music education is!
Michael's unique brand of music ranges from movie scores to passionate arrangements for piano, orchestra, ballet, jazz, fusion, Smooth Jazz, Pop, New Age, and Adult Contemporary. Michael Allen Harrison's CD, "Emotional Connection", received a NASA Orbiting Certificate for air play in space on the space shuttle ENDEAVOR. His 1994 album "Circle of Influence" went up on the space shuttle DISCOVERY. On January 29, 1999, Michael was invited to perform in NYC at the United Nations premiering "Remembrance", a tribute song to the 50th Anniversary of Israel's Independence (which can be heard on his benefit CD "Seasons of Peace", recorded for the organization "Season of Non-Violence"). Michael performed at THE WORLD PEACE CONFERENCE at the Hague, in the Netherlands on May 14, 1999.
Michael's most recent double CD release, "Composer Pianist", celebrates his favorite compositions over the last 25 years, and includes his first Piano Concerto "The Mt Hood Concerto". Michael has performed for President Clinton, Vice President Al Gore, and Quincy Jones when they have visited Portland. As the opening act for the Celebrity Forum Interactive Speaker Series, he opened for Walter Cronkite, Jerry Spence, Margaret Thatcher, Jerry Lewis, Colin Powell, Jan Schlichtman and James Whitmore. Michael composed and performed a new work entitled, "Ocean of Wisdom" for the Dalai Lama during his visit to Portland, Michael presents a new composition every year with The Portland Festival Symphony during their summer concert series and was honoerd by the Oregon Symphony In 2008 where Michael and the Oregon Symphony presented a 2 hr. program of Michael's compositions.
Film
Michael scored the motion pictures "Claire of the Moon" in 1992, and James Westby's "Anoosh of the Airways" in 1998. The Short Films – "Mortified Man", "Both Sides Now", and a documentary for OPB, "Age of Infamy". Additionally, he has produced scores for national infomercials that include Solo Flex and Nordic Flex Gold, as well as a national commercial for United Way.
Ballet and Theater
Michael premiered a new Ballet with the Vancouver Dance Theater in April 1999, of the children's classic story by Marjorie Williams, The Velveteen Rabbit. Michael also scored a children's musical version of The Velveteen Rabbit for the Oregon Childrens' Theater, and premiered for Christmas 2000. As the Music Director for the American Dance Theater in Portland in 1988, Michael wrote the score for SnowMan : A Winter Ballet. This Children's ballet was popular for years locally, until the American Dance Theater dispersed in 1994. Michael has also acted as the company pianist for the Pacific Ballet Theater, Ballet Oregon, and Oregon Ballet Theater. Michael premiered his Musical Prometheus in 2009 at The Lakewood Theater in lake Oswego Oregon. In 2010 he was one of the 4 composers who contributed to the hit musical "69". In 2012 he created The Snowman And The Red Thread- Children's Story and Ballet w/ Polaris Dance Theater. In 2012 he wrote the music for Stumptown Stages hit Musical "It's A Wonderful Life" additional music by Julianne Johnson, book and lyrics by Alan Berg & Janet Mouser . In the Spring of 2015 Stumptown Stages will world premiere "Soul Harmony" with the same creative team.