POTLUCK IN THE PARK
ANNUAL CHRISTMAS DINNER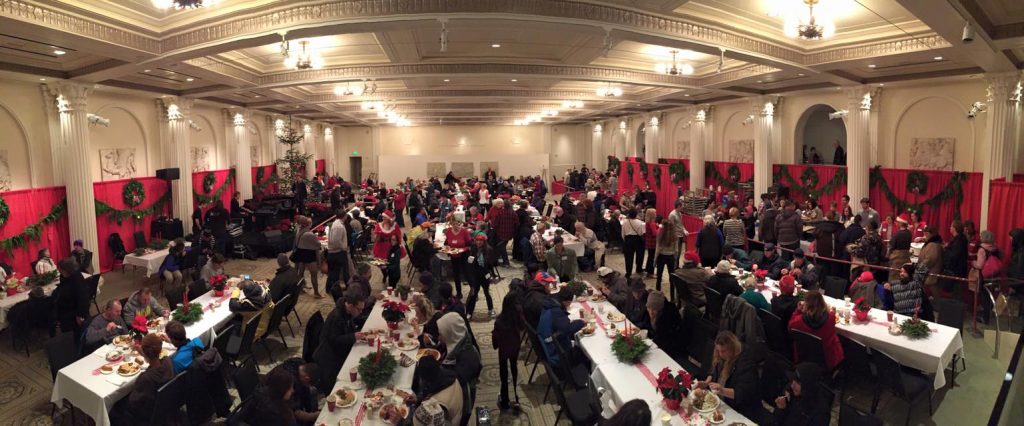 Each year Potluck in the Park hosts an annual
free Christmas Dinner.
Location is the Portland Art Museum.
This year our meal will be served on Christmas EVE,
Sunday, December 24
1pm to 4pm
Volunteer Sign Up is Now
OPEN
We're pleased to say nearly all volunteer opportunities for our Christmas Dinner have been filled. There are still a few positions open to transport guests with mobility issues to and from the dinner and to help with late cleanup. There is also still a need for pies and cakes for desserts. Please see below.
[maxbutton id="1″ url="https://signup.com/group/2070278801476740113″ ]
[one_third extra="" anim=""]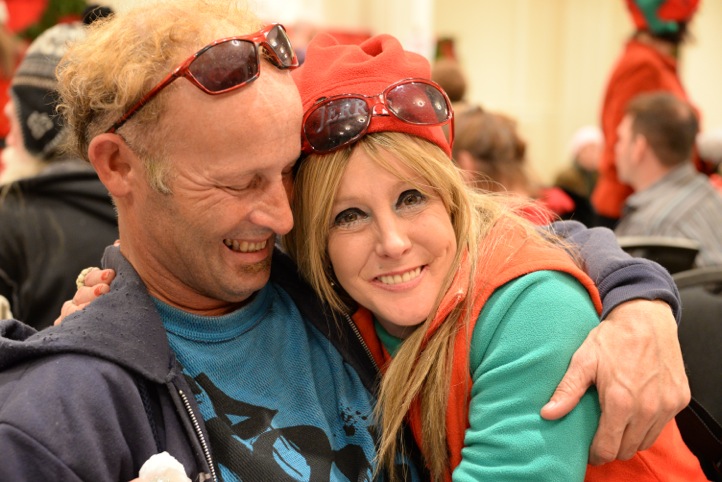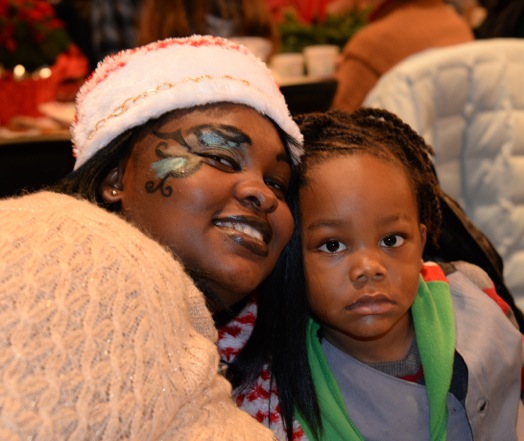 [/one_third]
[two_third extra="" anim=""]
"We are honored to partner with Potluck in the Park to host a Free Christmas Dinner again this year.  When Potluck in the Park leadership approached the Museum three years ago to host the annual event, due to the closing of the YWCA, we knew it was something we wanted to do.  The Portland Art Museum aspires to be a resource for all and we are honored that our celebrated facilities and collections can be used to serve those most in need.   It is truly a unique opportunity for the Museum and Potluck in the Park to not only nourish bodies, but also souls."  — Brian Ferriso

[/two_third]

---
VOLUNTEER REGISTRATION IS NOW OPEN
You MUST REGISTER to volunteer on either Saturday or Sunday. No Walk-Ins Please! so be sure to sign up early given the limited number of volunteer opportunities. Volunteer spots fill up fast so please read the information below and sign up for ONE SHIFT only. We want to give as many people as possible an opportunity to help. Again, there will be no same day registration. You must be registered in advance.
Please do not use the Contact Us form to try to sign up for Christmas Dinner.
Christmas Day jobs include:
Buffet Line Servers, Bussing Tables, Cell Phone Room Monitors, Coffee/ Pastry Servers, Clean Up, Dining Room Runners, Dishwashing & Recycling, Greeters & Line Monitors, Guest Transportation, Pet Food Distribution & Pet Kennel Watch, Pie Cutters, Photos with Santa Helpers and Table Waiters.
Christmas Eve Opportunities:
The fun starts on Saturday. If you can't help Christmas Eve, come help us get ready the day before. We'll be Loading In, Setting Up and Decorating all day. See the
SignUp.com
website for shift details.
Families must sign up the names of everyone in your party individually for your shift. Please have all names available when you sign up.
[maxbutton id="1″]

HOLIDAY GOODIES NEEDED
Potluck in the Park welcomes donations of homemade or commercial non-perishable pies and cakes for our Christmas Day Dinner and cookies and pastries for our Sidewalk Coffee & Pastry Cafe out front. You can bake yourself or purchase, or maybe ask your local coffee shop or bakery for a donation of their Christmas Eve leftovers.
We also need No-Sugar, Low Sugar and Gluten Free desserts and fresh bananas for our diabetic and "dentally challenged" guests.
If you can help, please confirm via email to
xmasbakedgoods@potluckinthepark.org
. This year you can sign up for this online, as well, but we still ask that you shoot us an email to tell us what you are bringing. If you are bringing pies or cakes, please indicate how many.
IMPORTANT DELIVERY INFO! In order to reduce confusion on Christmas Day we ask that all baked goods be delivered the day before, on Saturday, the 23rd between 10am and 5pm when we will be setting up and decorating. Please bring them directly to the Art Museum.
If necessary, arrangements can be made to take delivery at our kitchen earlier in the week. Please
email us
first.

HOW YOU CAN CONTRIBUTE:
You can donate directly to Potluck in the Park through our secure PayPal link, just click on the red DONATE NOW button at the top of the page.