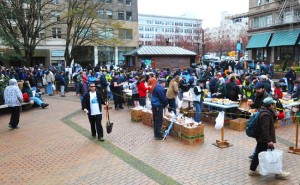 Potluck has been serving a free hot meal to anyone in need since 1991. Rain or shine, 52 weeks a year, we provide a hot meal, every Sunday, in the next block north of the Park Blocks adjacent to the sculpture in front of the Pacific Northwest College of Art (PNCA). This is between 8th Ave and Park Ave on NW Glisan. Four hundred to six hundred Portlanders do not go hungry on Sunday because of Potluck in the Park. It is only because of the generosity of volunteers and donations from people like you that our Potluck community continues to provide a meal to those in need.
12:00 Noon – Setup begins at O'Bryant Square

3:00 pm – Meal is served

4:00 pm – Wrap up begins

6:00 pm – End of Sunday meal and clean up
---
Welcome Volunteers
Potluck in the Park is an all volunteer organization that has served a free hot meal to anyone in need since 1991. Most importantly, each volunteer strives to treat everyone at the meal with dignity, respect, friendliness and kindness.
Volunteers and guests come from all walks of life, diverse groups who normally would not mix share a community project by serving a meal. Potluck in the Park is an extraordinary example of what caring citizens can do to enrich and revitalize their city.
---
Getting Ready
Wear comfortable, casual clothes in layers—we clean up outside, even in bad weather!
Eat before you come – we try to make the food resources we have stretch as far as possible each afternoon, so please don't plan on eating during your volunteer time (unless you are "in need")
Provide time to park – street parking is available but fills up quickly, so please provide ample time to find a parking spot and walk to the park
You won't need a food handler's card to serve food, but we do follow restaurant rules: Please tie back long hair; If you aren't feeling well, please tell the sign-in person and plan to do a different job.
For more information visit:
Volunteer Information