HOLIDAY BAKED GOODS NEEDED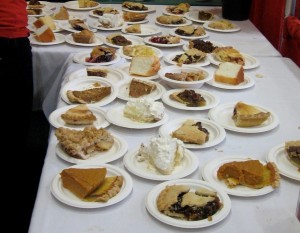 Potluck in the Park welcomes donations of homemade or commercial non-perishable pies, cakes, cookies and pastries for our Christmas Day Dinner and Sidewalk Coffee & Pastry Cart. You can bake yourself, purchase or maybe ask your local coffee shop or bakery for a donation of their Christmas Eve pastry leftovers.
We also need No-Sugar, Low Sugar and Gluten Free desserts and fresh bananas for our diabetic and "dentally challenged" guests.
If you can help, please confirm via email to xmasbakedgoods@potluckinthepark.org. We aren't able to do this through the Hands On process. If you are bringing pies or cakes, please indicate how many.
**IMPORTANT DELIVERY INFO!** In order to reduce confusion on Christmas Day we ask that all baked goods be delivered the day before on SATURDAY, the 24th, between 10am and 5pm when we will be setting up and decorating. Please bring them directly to the Art Museum.
If necessary, arrangements can be made to take delivery at our kitchen earlier in the week. Please email us first.