Potluck's 20th Christmas Day Dinner
will once again be at the YWCA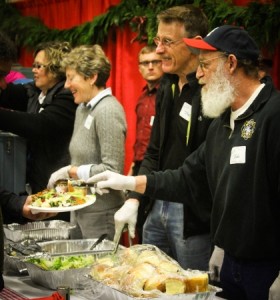 Potluck in the Park is pleased to announce that our 20th Annual Christmas Dinner will be back in the YWCA gymnasium on Christmas Day.
Plans are in the works to feed and gift up to 1500 attendees. As always, guests will feast on a turkey dinner with all the trimmings and wonderful desserts. They will receive gifts and make a free phone call using cell phones provided by volunteers, and can have their photos taken with Santa. Throughout the dinner, guests and volunteers will enjoy holiday music performed live by some of Portland's finest jazz musicians.
PLEASE NOTE: Most volunteer opportunities are FULL for both Christmas Eve and Christmas Day.
For remaining Volunteer Opportunities please CLICK HERE
WHERE:  Downtown YWCA Building, 1111 SW 10th Ave
WHEN:  Christmas Day, Noon to 4:00pm
 For Transportation Assistance: Call (503)255-7611 or send an EMAIL
---
Your help is needed this holiday season. 

Every year, Willamette Week makes it easy for you to make a donation — and a connection — to groups in your community. We are happy to be included in the 129 non-profits hand selected for 2013. What you give today will help make Portland a better place all year long.  DONATE NOW!
---
Since 1991 | Rain or Shine
Rain or shine, 52 weeks a year, hundreds of needy people have a hot meal and a community gathering place because generous supporters understand food is a human right and hunger is a human wrong. Every Sunday for twenty-one years Potluck in the Park volunteers have prepared and served healthy wholesome meals with dignity and kindness. The secret to Potluck in the Park's staying power is the story of its people.  Our tenacious teams of career-volunteers have inspired thousands of other volunteers to donate their time, talent and money.  Their dedication and passion has made Potluck in the Park a touchstone for a community in crisis.