Serving the Hungry in O'Bryant Square, Rain or Shine
IMPORTANT NOTICE:

NOW THROUGH THE END OF APRIL, POTLUCK IN THE PARK IS LOCATED IN WATERFRONT PARK, UNDER THE HAWTHORNE BRIDGE RAMP
Potluck is TEMPORARILY moving our meal service to Waterfront Park under the Hawthorne Bridge ramp. This will take effect Sunday, November 19. Temporary closure of the parking garage under O'Bryant Square necessitated this move in order to have some cover from the elements during the winter months. More on the garage closure below.
Guests in attendance were notified last Sunday and flyers have been distributed to the usual locations downtown and the surrounding area. We hope everyone gets the word, but we will have signs up at O'Bryant Square for those who don't. If you would like to volunteer to spend time at O'Bryant Square during the meal one of the next few weeks to direct people or transport some who can't make the walk, please contact us.
We will be using this Waterfront Park location  until the end of February, then returning to O'Bryant Square. If the garage there is opened to us before then, we will move back as soon as it is available.
PARKING
If you are driving down to volunteer there is ample parking immediately adjacent to our serving area. This is a paying lot, the Sunday day rate is $4.50.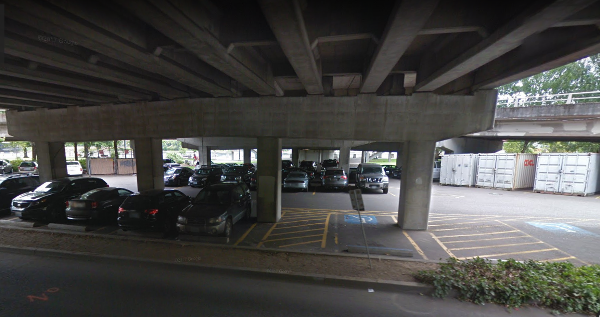 This lot is tricky to access and easy to miss. It, too, is under the bridge ramp.
You can only access it from NORTHBOUND on Naito Parkway. You will have to go south to at least Columbia Street to get on Naito before the parking lot. The entrance is immediately after the on-ramp to the Hawthorne Bridge. If you miss that entrance there is a second one.

If for some reason this lot is full, the best option is to park in the SmartPark garage one block away at SW 1st and Jefferson. The entrance is on Jefferson between 1st and 2nd. $1.60/hr, max $5.00.
IMPORTANT:
PEDESTRIAN ACCESS
This location also has difficult access for pedestrians.
The safest access for able-bodied persons who can negotiate stairs is to use the sidewalk on the south side of SW Madison to go up the ramp to the bridge. Take the second stairway down, just before the bridge, directly into our area. We will have a sign at the stairway. This avoids having to cross Naito on foot.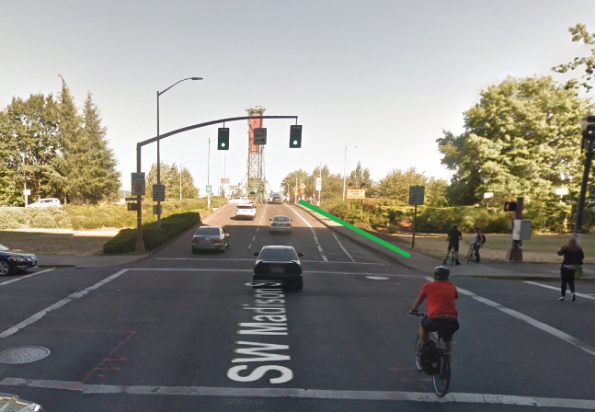 Persons who can't use stairs will need to cross Naito either at SW Main (or points north) or SW Columbia (or points south). There are lights at both the Main and Columbia crosswalks. There are no safe pedestrian crossings between these streets.
GARAGE CLOSURE
Potluck has been allowed the use of this garage since we were first moved to O'Bryant Square 21 years ago. It's owned by the City and operated as a SmartPark garage by Portland Bureau of Transportation (PBOT).
Nearly since the beginning of our time here the ceiling has leaked water anytime it rained. It's become worse over the years, sometimes taking up to an hour to duct tape towels to the concrete beams to keep water from dripping on our serving line. However, we've always been able to manage and never felt there was any danger to being there.
Last spring we began hearing rumors of a possible closure of the garage. Although we made it clear to PBOT that we would need some lead time if they were to close it that decision was made abruptly in late August citing safety concerns due to the leaks and disintegrating concrete. We were given one more Sunday before it closed to all users.
PBOT has an outside structural engineering firm contracted to do an analysis of the integrity of the garage, what it would take to fix it and whether there is any immediate safety hazard. Their report is due "around the end of the year". We are hopeful this will come back with either an easy solution or a determination that there is no hazard to its use now.
If the garage stays closed passed March 1st our only alternative presently is to purchase and network together multiple pop-up canopies to cover the serving area. This will still leave guests out in the weather to eat. This is not what we want to do.
WHY WATERFRONT PARK?
Portland Parks and Recreation (PP&R) has offered us this space as the only alternative they could come up with among their properties. It's far from ideal. It's a long way for some of our guests with disabilities and it means crossing a very busy arterial in Naito Parkway.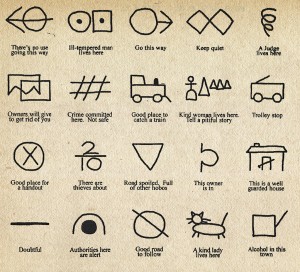 1930's Hobo Signs
During the Great Depression of the 1930's "hobo signs" were scratched on pavement or fence posts in front of houses across the country. The symbol of the smiling cat meant, "Kindhearted Woman" – someone who could be counted upon for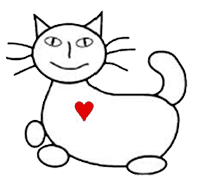 a friendly word and perhaps a warm meal. In hobo language it was a high complement; today it still is. Potluck in the Park has adopted the smiling cat to symbolize what we stand for: A safe haven, rain or shine. We have been serving warm meals to those in need since 1991.
Fighting Hunger in Portland.
Rain or shine, 52 weeks a year, hundreds of needy people have a hot meal and a community gathering place because generous supporters like you. Understanding food is a human right and hunger is a human wrong. Every Sunday for twenty-five years Potluck in the Park volunteers have prepared and served healthy wholesome meals with dignity and kindness. The secret to Potluck in the Park's staying power is the story of its people.  Our tenacious teams of career-volunteers have inspired thousands of other volunteers to donate their time, talent and money to fight hunger in Portland.  Their dedication and passion has made Potluck in the Park a touchstone for a community in crisis.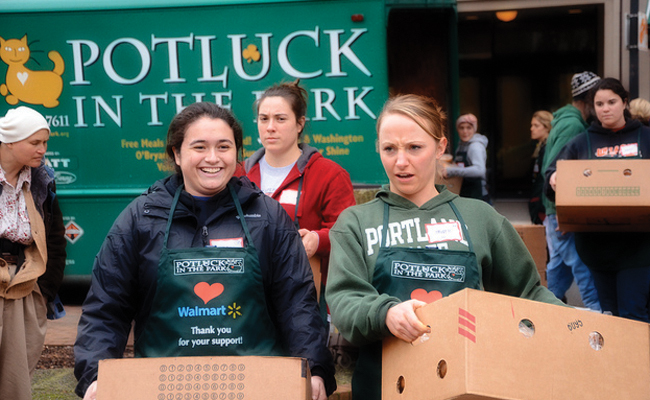 ---
Our VOLUNTEERS speak out.
Please take a few moments to watch this short video and learn more about Potluck in the Park.
---
In Memory of our friend Karl