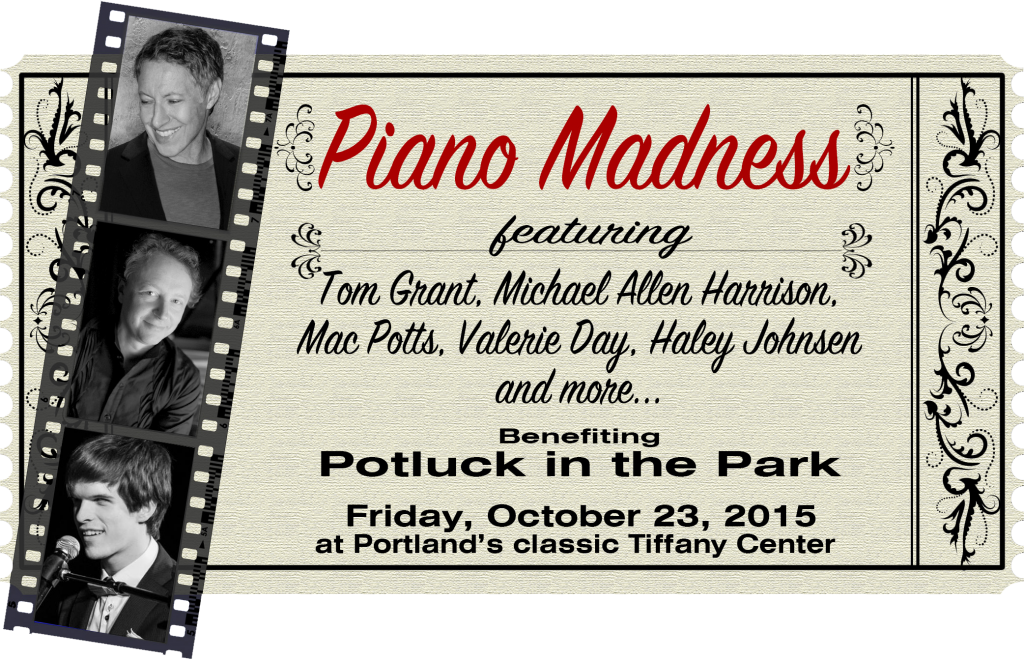 Potluck in the Park's Piano Madness
features four world-class pianists
playing solos and duets on two pianos
along with two acclaimed vocalists.
---
Tom Grant,  our musical director, is renowned as an originator of the Smooth Jazz sound, has toured internationally and has recorded many best-selling CD's.  
Michael Allen Harrison is a beloved Portland artist, who performs regionally and is the founder of the Snowman Foundation, supporting music education in the Northwest.
Mac Potts is known from Portland to Seattle to New Orleans as a boogie-woogie showman who has shared stages with many of the biggest names in R&B and Jazz.
Hailey Kay Rowden, a protégé of Michael Allen Harrison, is a gifted classical pianist who just recorded her first CD.
Joining these outstanding musicians are vocalists Valerie Day and Haley Johnsen.
Valerie Day, lead singer for the reunited 80's band Nu Shooz, is a stellar jazz performer. She has recorded and performed extensively with Tom Grant and the Woody Hite Big Band, along with recent festival appearances by Nu Shooz. Her repertoire ranges from jazz standards to pop music.
Haley Johnsen, an American Idol semifinalist, has just released her first EP and is touring regionally. She is a prolific songwriter and her voice has been described as powerful and dynamic, with soulful flair.
All proceeds benefit Potluck in the Park, a 501(c)(3) non-profit, serving a free hot meal to anyone in need every Sunday since 1991 in Downtown Portland.
Corporate Sponsorship Opportunities available. (click link for more information)
$75 – Dinner, Appetizers and Show – 2 Complementary Drinks
$45 – Appetizers and Show – Complementary Drink
$1000 – Table of 10 for Dinner, Appetizers, Show, 2 Drinks, Preferred Seating and 2 Bottles of Wine.
Tickets Non-Refundable

---